1. Blend indoor/outdoor living
Creating a seamless indoor/outdoor vibe, where the inside can naturally feel as if it flows to the outside, is key in any outdoor space, particularly a coastal-inspired backyard. It's important to get your transitions right so the outside area is the same height as your inside area.
We suggest laying something fun outside like an outdoor rug will make the space feel more like an extension of your living room.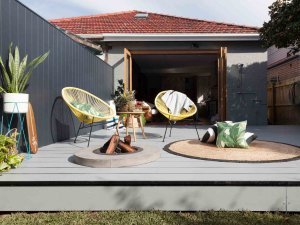 2. Install a deck
What says 'laid-back coastal living' more than a stylish deck? While timber decks are gorgeous, without regular maintenance they will degrade quickly – not ideal if you're time-poor.
Instead, consider installing a durable alternative that's resistant to rotting, splintering – and, you guessed it, spilt champagne for all those nights spent entertaining on it. HardieDeck is resistant to damage from all those things, and installation is fast and easy – meaning less time installing, and more time enjoying.
3. Bring in soft furnishings
Look to your surroundings for inspiration and update your new coastal space with outdoor rugs and cushions. You could even consider bringing in tones that reflect the coast. Sandy beige tones – the colours that reflect sand dunes – would work great in an outdoor living space. Try using such tones in your rugs or through terracotta pots to house some lovely leafy greenery.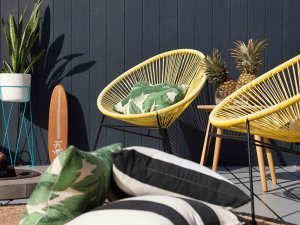 4. Get your colour palette right
Now, here's the real fun part! For a coastal theme, think blues, charcoals, whites and greys. If you have a potential view, make sure you utilise it. You should be screening out the neighbours, not the beach!
Don't forget to consider your deck as a chance to play with colour, too. With HardieDeck you can paint or stain the deck in any colour that suits your style and vibe at home, from a traditional timber stain to a trendy muted grey.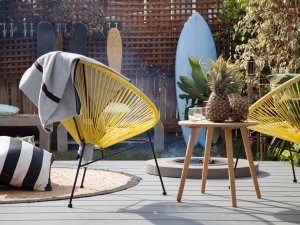 5. Make it functional
For a growing family, it's essential to keep your outdoor space functional and easy to maintain. Think about how your family will best use the space.
Things to consider in a coastal backyard include some built-in seating or a heater for the colder days, a fire pit, built-in barbecue area, power for your outdoor fridge or freezer, and a table that works with the size of your entertaining area.