The key to productivity is a clutter free and well organised space. Here are some tips to creating the perfect home office or study area.


Ideally, your home office or study should be kept separate from your living space. However, if you don't have a spare room, set up an area away from the main living room to minimise distractions.


Being comfortable and maintaining a good posture is key to a successful working day or study session. An adequately sized desk and good office chair will make it that much easier to stay at your desk and concentrate on the task at hand.



It's harder to procrastinate work and study when you've already established a well organised space. Make sure you have plenty of storage for all your books, papers and stationary.


It can be difficult to stay motivated when you're working from home, so it's important to create a space that you want to spend time in and feel inspired. Colour is a great way to set the mood of a room. For example, yellow is linked to happiness and optimism, green represents growth and harmony and white gives a sense of space and neutrality.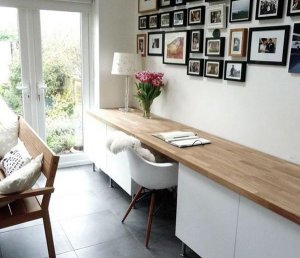 The whole family can start the year afresh with these great value office ideas.
If you're setting up the kids' with their first desk or trying to instil good homework
practices, providing a fun and creative
space is a great step towards homework success.