Linen? Check. Throw? Check. Cushions? Check. You've got a recipe for bed-making success.
Without taking up lots of time, or spending bucket loads of cash, there are some simple hacks you can employ to spice up your bed each and every day.  The way you style your bed certainly comes down to personal taste, but a little expert opinion never hurts.
1. Let linen do the talking
Linen offers an instant transformation of a room. When choosing linen, look for neutral colours, like white or off-white, with a bit of texture in it.
With so much beautiful linen out there, it's hard to go wrong. The key, is to opt for cotton or pure linen. Pure linen is plain, but the crease in it brings a bit of life into your bed.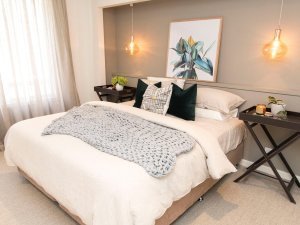 2. Do the tuck fold
No this is not a funky new dance move.
The crushed linen trend is a messy look, but if you make it the right way it can look amazing.
Enter the "tuck fold": A go-to hack you can use when making your bed so it actually looks good morning and night.
You basically pull the doona cover all the way to the top of the bed, pull it back down three quarters, then tuck it back over on itself so it creates a roll – or fold down – on the top of your bed.
For this, we recommend using one type of linen – ideally in either a beige or charcoal grey.
3. Style with cushions

With your linen and tuck fold sorted, another obvious hack – but one that adds so much style to any bed – is to use a mixture of standard and fun, statement cushions.
Don't go overboard, however. It can be so easy to style with excessive cushions, but if you're sharing your bed with a partner the cushions are likely to end up on the floor at night, anyway. So keep it simple but stylish. We suggest keeping it to four standard pillows, then I'll add two to three feature cushions. They can be any colour, shape and size. You can also swap out cushions on your couch so you don't get bored of the same look.
Top tip: To add a different shape on the bed, puff up the cushions – whack them really hard to fluff them… kind of like a karate chop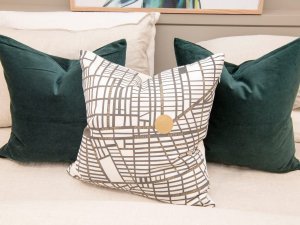 4. Add a throw

Who doesn't love a throw? When positioned in the right way and used to complement your cushions, it can look relaxed and chic. An important element to consider when choosing one, however, is the season.
Warm weather throws are lightweight with large loops. They're lighter in weight and still chunky. My winter throw, on the other hand, is a chunky-style knit.
Bring in the colours you love, be it green, pink or whatever the Pantone colour of the season is that you want to try out.
In terms of where to place your throw, we recommend positioning it in front of the tuck fold or on the base of the bed.
Together with your artwork, lamp and photos your pimped-out bed will help create the whole story.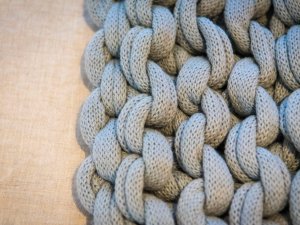 More ideas

Here are a few final tips for how to pimp out your bed, your way.
If you love crazy prints, bring in some solid colour with your cushions and throws to balance the look. Kip & Co are an excellent example of how to do it right.
Buy a mattress and base instead of a bed frame, get the base covered in fabric then buy a separate bedhead. That way when you get sick of the bedhead you can change or recover it yourself.
Work with what you've got – buy items you like that will complement other things you own.
Be thrifty where it counts, but also understand that real linen is an investment. Brands like I Love Linen, Kip & Co, Goosebumps Bedding, Country Road and Sheridan always have great-quality linen.