Summer usually means escaping the confines of the indoors to enjoy our country's natural beauty. But this year's most popular design style is inspired by nature, and so fresh you might be tempted to lounge around inside all summer!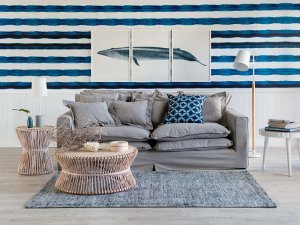 Coastal style has been a huge hit this year in decorating. Whether you're adding a subtle nautical accent or completely transforming your home with a theme made popular by the Hamptons, here are five sure-fire ways to bring some coastal charm to your abode.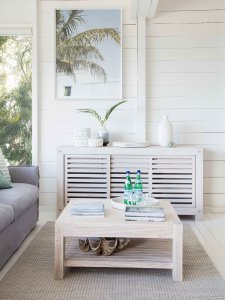 1. Artwork
Coastal style isn't simply a case of adding kitsch shells and driftwood. You need to truly embrace this look. Against the subtle coastal palette and natural materials, a good selection of artwork will provide crucial flair. Try vintage nautical prints, ceramics, genuine collector's items and sculptures. It'll be worth shelling out a few clams to capture a coastal vibe.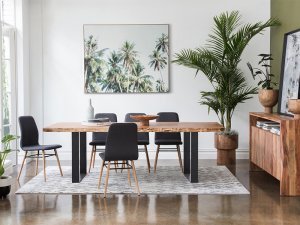 2. Palm frenzy
It's important to invite nature into your home. Big bold leaves and dark greenery create the feeling of a tropical oasis, especially if you have room for larger plants that instantly remind you of being near the ocean. Towering palms are a guaranteed way of enhancing a coastal interior.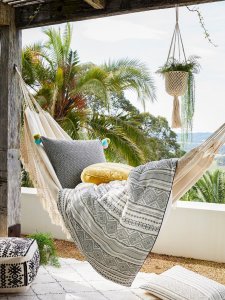 3. Abundant light
Draw back the blinds and embrace natural light to brighten your space. That summer sunshine is your interior's best friend, bringing natural finishes and textures to life. After the sun sets, switch on some beautiful pendant lights and lamps to make the space glow.
4. Crisp, clean colours

Shy away from vivid colours and lean towards crisp whites, blues, greys and neutral tones. This palette is a breath of fresh air. It's relaxing and fresh, connecting you psychologically to the seaside. Nature is our best design consultant and you can find these tones living harmoniously on most Australian shores.
5. Natural fibres
Embrace natural materials and textiles such as rattan, cotton, cane and linen. Incorporate these into drapery, rugs, throws, cushions and bedding to maximise comfort. Interior design appeals to all our senses, especially touch, so pay close attention to texture.