One thing 2020 taught us is the importance of creating a home environment that is a warm and welcome refuge from an unpredictable world.
And while we can't experience the luxury of travel quite so easily, 2021 bathrooms will be all about creating a sanctuary at home.
Warm over cool tones
Instead of opting for your standard grey tile, we are seeing an increase in popularity of all of the beautiful stoney colours – just slightly warmer than a grey.
Woodwork also doesn't look like it's going away anytime soon either. won't be disappearing from bathrooms anytime soon. The wood tones will always hang around in a bathroom as they just do a good job of warming up a space and taking it from stark white to something with a bit of life in it.
A luxe, spa-feel
With 2020 showing us that we can't rely on holidays for a luxury escape, people are asking more of their bathrooms. People will want to explore larger spaces with more of a wellness sort of approach – more of a relaxation, spa-feel where you can unwind at the end of a busy day.
Large showers and wet rooms
The experts agree that shower spaces are getting bigger, which help bathrooms feel bigger and more luxurious. We're also starting to see more "wet rooms", where the bath and shower share one large, tiled area.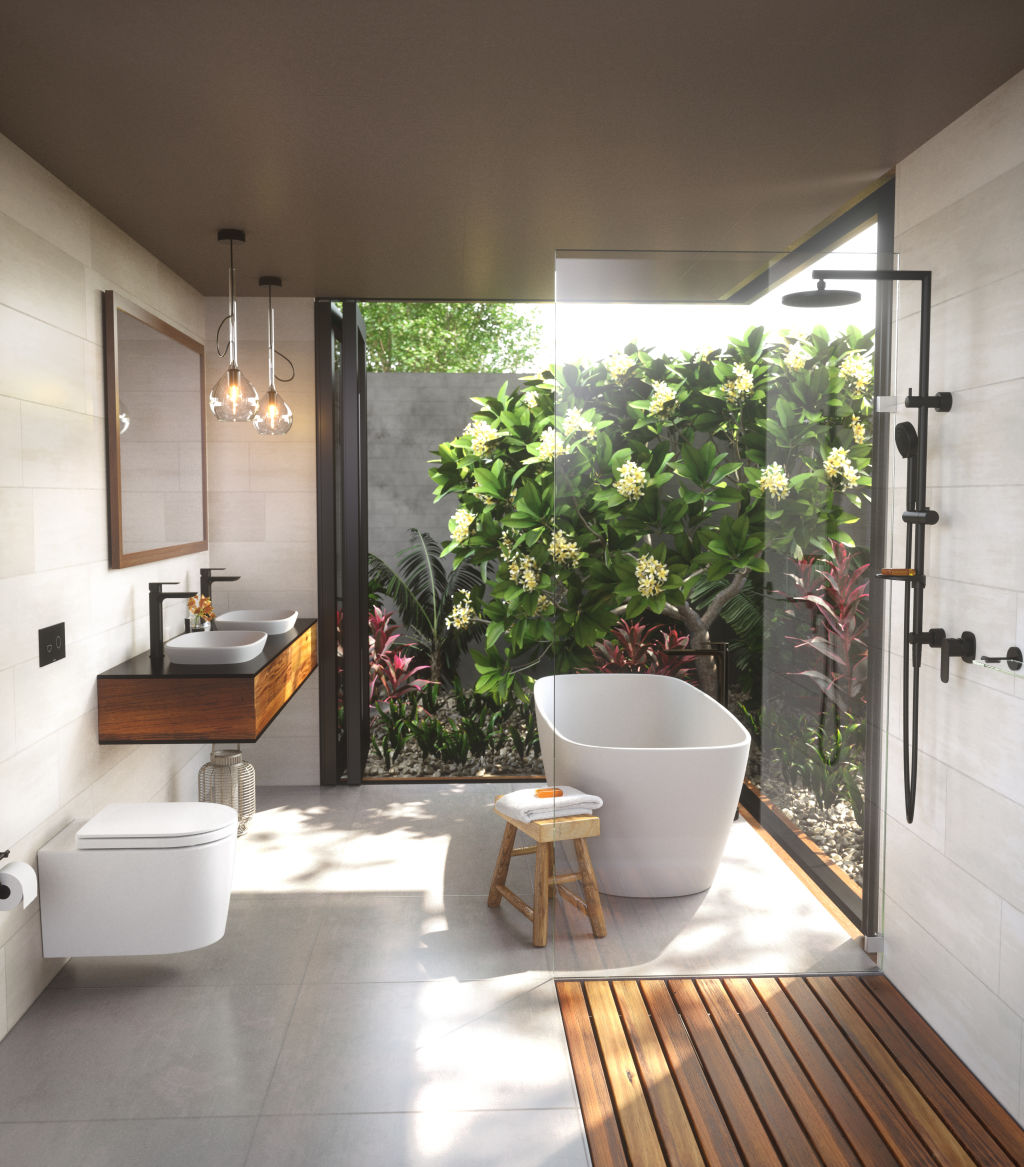 Large-format tiles and simplicity
Gone are the days of mixing countless textures in a bathroom.
Rather than covering every surface in a different tile, Bury says 2021 bathroom design will lean more into having one beautiful large-scale tile on the walls and floor as opposed to having a mix of different colours and textures throughout.
Bold choices
While mixing a wide variety of textures might be out, this doesn't mean we can't be bold when it comes to tiling. Tarulli suggests opting for one tile, but using it liberally – for example, by doing all of the walls in a mosaic, rather than just a splashback or feature wall.
Creative towel rails
Heated towel rails are still seen as essential in a modern bathroom, and they're being made into a feature – for example the vertical towel rail design, which is a vertical bar over which the towel can be casually draped.
Mixed metals and aged tapware
Instead of sticking to one colour or material for tapware, designers say it's time to get a little more playful.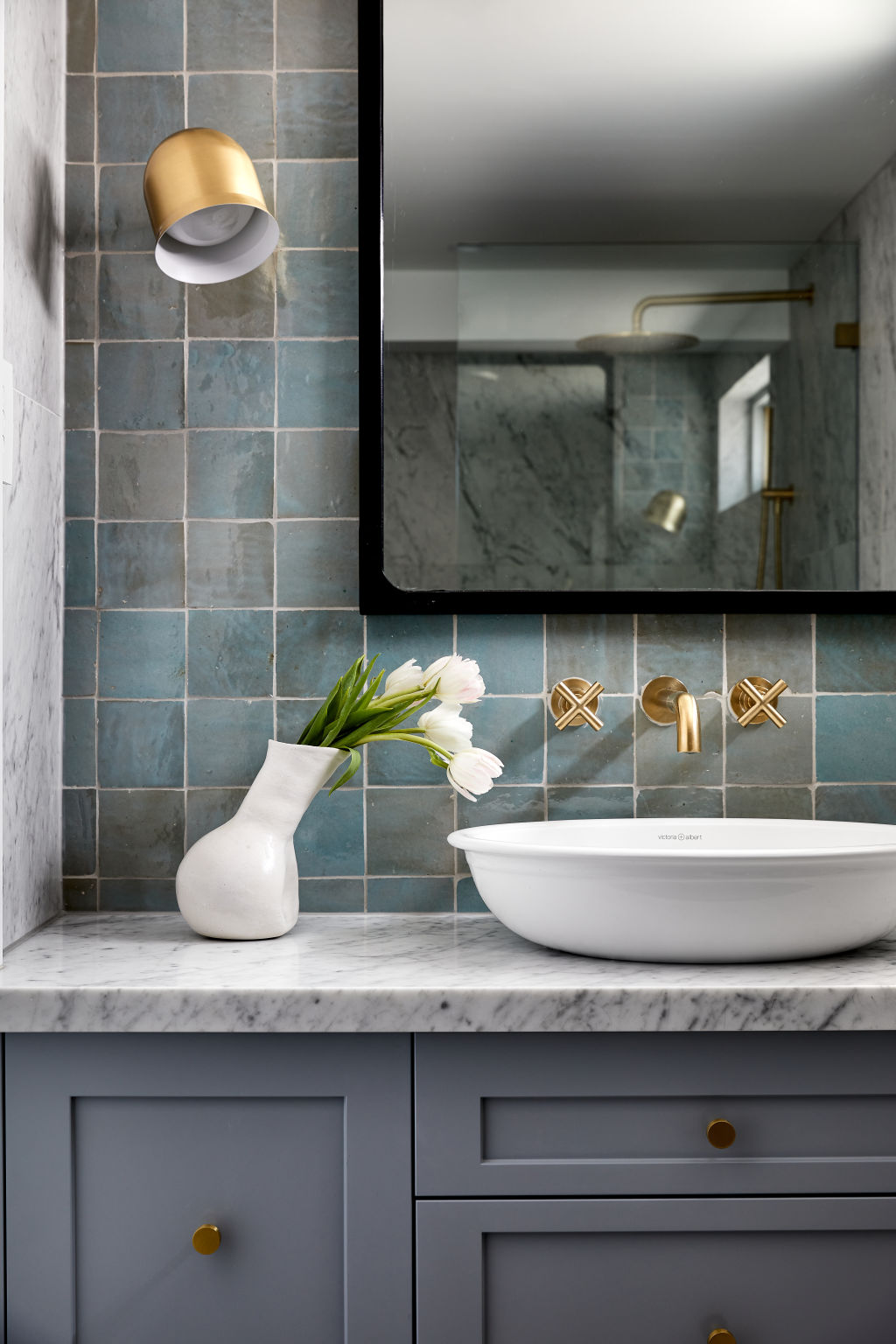 You might have an aged brass tapware set-up, but your lighting over the mirror might be black, for example, people are abandoning the rules a little bit. It used to be that if you had chrome taps or black taps, you'd continue that metal throughout the whole house.
We'll be seeing tones like gunmetal and brushed nickel next year, as well as ones that age or patina over time.
Smart toilets and bidet seats
Again, the fact that we've spent more time in our houses than usual this year has people upping their bathroom game and this includes the toilet. Smart toilets such as the Roca In-Wash Inspira and bidets like the American Standard SpaLet are fast gaining in popularity, according to Santilli.
Separate hot and cold taps
While having one tap for both hot and cold water has been seen as sleek and modern for a while now, the fashion overseas is returning to separate taps. This adds extra to bathroom and fills the space a bit more, whist also providing a high-end, luxe look when you see two taps there next to the sink.